M-Power Yoga & Wellness offers TWO class options: virtual and in-person yoga.
In-Person Yoga Classes are held in Harmony Township or at nearby locations.
Virtual yoga and meditation offered via Zoom. There is typically a virtual option whenever we host class at our home studio in Harmony, NJ
Please visit our Facebook page for the latest updates.
Go with Your Yoga Flow.
How do You Deal with Obstacles, Setbacks and Frustration? All experiences are painted by E-Motion, Energy in Motion. Sharpen your skills of Creativity, Resilience and Transformation. Go with the flow instead of swimming against the current… at this week's @MPoweryogawellness classes.
In-Person Yoga Classes are Local to South Warren County, NJ.
Current classes are as follows:
Private, One-on-One Yoga Sessions with Mary (Home Studio, by appointment). Book via FB messenger OR email mpoweryogawelless @ gmail
Goddess Yoga -in-person, group yoga led by Mary Walker. Summer Evenings Yoga at the Park – Stewartsville, NJ. THURSDAY evenings.
Warrior Yoga -in-person group yoga led by Mary Walker. SATURDAY mornings.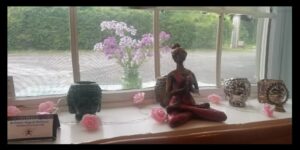 How to Sign Up for M-Power Wellness Yoga Classes (in-person or virtual):
Book via FB messenger OR email mpoweryogawelless @ gmail