Interested in learning more about yoga and meditation teachings at MPower Yoga Wellness? Here's a video sample of Mary's Metta Challenge. Enjoy, and let us know how  you liked the experience. Drop a comment on our Facebook page.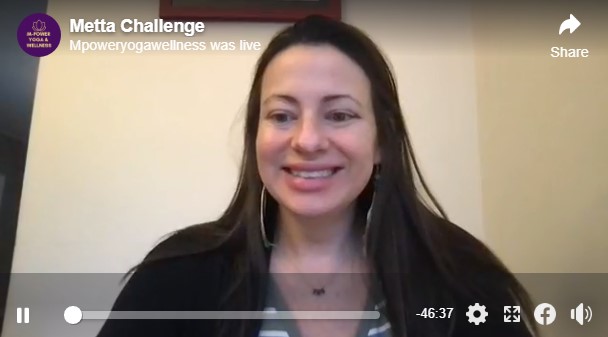 Did you enjoy The Metta Challenge?
How did it feel to uncover the princples of Metta with me. Purpose: cultivate more confidence, health and freedom for yourself. Release the worries, fears and doubts that hold us back from reaching for what we truly want most.
The Metta Prayer:
May I be…
~Safe.
~Protected.
~Healthy.
~Happy.
~At Ease.
~Free.
May my loved one BE
" ~ ~ "
May a neutral person I know of BE
" ~ ~ "
May someone with whom I have difficulty with BE
" ~ ~ "
My All Beings BE
" ~ ~ "
Stay in touch with Mary of MPower Yoga Wellness on email.
Learn yoga and practice meditation for increased calm, good feelings and focus. Yoga benefits the body and soul in so many ways. Offering wellness tips and support for living a healthy, happy and balanced life.